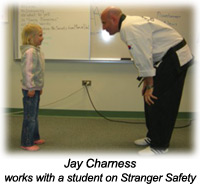 Welcome to A.P.E. Inc where we specialize in teaching kids and adults about stranger awareness and safety. We also specialize in teaching a very empowering Women's Self Defense class to ladies ranging in ages from 12 - 112. We want to congratulate you on taking the first step in keeping yourself (for all the women out there) and kids safe from strangers and predators. Or experience shows that if faced with a dangerous situation, any quick reaction at all can increase a child's and women's chances for escape. We pride ourselves in teaching kids and women not only ways to get out of these potentially harmful situations, but more importantly, how to try and avoid them.

A.P.E. Inc. is a 501(c)(3) non-profit organization.

Please be sure to contact us with any questions, or better yet, to schedule a presentation for your group. We are available for your convenience in that we travel to you (from Colorado Springs all the way up to Estes Park and all over Colorado). We conduct presentations for groups of 5 people on up to an audience of 1,000. We go to entire schools, churches, recreation centers, businesses, government agencies, mom's groups, neighborhood groups, Boy Scouts, Girl Scouts, etc, etc, etc.

If you offer grants, would like to become a Corporate Sponsor or make a private donation, please click here to give us your information.